Dining at The Bradley Inn is an experience that we hope will drive you to come again and again.
We would like to thank all of you that have supported us by dining with us and/or purchasing take out meals and gift cards during this difficult time!
The Season begins!
We will be open every Saturday beginning May 1, adding days mid-May
We will be sending out an email with the menu a week in advance for the first three Saturdays
We will be requesting reservations and menu selection upon booking
If you are interested in being added to the Friends of The Bradley Inn list email us at info@bradleyinn.com
Reservations required, give us a call at 207-677-2105
Note that due to Covid restrictions and staffing limitations we cannot accommodate early arrivals for drinks at the bar
Menu – reservations with menu selection by 5:00 pm on Thursday, May 13
Saturday, May 1 begins our season!
Now open every Saturday
Pre-reservation with your menu selection through June 5
Opening at 5 pm, last reservation 7:45
Reservations required
Please call, 207-677-2105 by 5:00 pm, Thursday, May 13
Please be prepared with your selection from the menu below
If you leave a message, please include your
full name,
preferred reservation time,
menu selection, and
phone number.
We will return your call to confirm
Thank you!
Menu
Small Plates
Soup de jour – $9
Local farm greens topped with dried Maine blueberries, crumbled goat cheese and a lemon vinaigrette – $12
Bacon Wrapped Dates, almond, goat cheese stuffed date served on house made apple butter with greens – $12
Local farm lamb Meatballs served with a Tamarind Lime Glaze – $12
½ dozen raw Oysters – $18
Entrees
Cheeseburger with bacon, lettuce, grilled onions and mushrooms and cheddar cheese with a side salad – $18
Grilled Gulf of Maine salmon chimichurri sauce, wild rice pilaf, seasonal vegetables – 28
House made pasta served with butter glazed thyme carrots topped with a citrus wine sauce – $20
Seared Petite Filet Mignon served with garlic mashed potatoes, bordelaise sauce and grilled vegetables – $30
Special – 10 orders
Thinly sliced prime rib French dip sandwich with potato salad – $18
Dessert
House made carrot cake with cream cheese frosting – $9
Gluten Free and vegetarian options available
We will be following all the required guidelines provided by the Governor's office and taking any precautions we feel are necessary to keep our guests and staff safe. We ask that if you are not feeling well or have been exposed to Covid-19 that you postpone your reservation.
Tables are placed 6 feet apart.
All guests are required to wear masks, unless eating or drinking.
Children must remain seated
Our inn doubles as a restaurant – one of the finest in the area. During the day our inn guests enjoy our sumptuous breakfast with house-baked goods. In the evening we are open to the public, we offer a fine dining experience serving gourmet, made from scratch food, in a casual yet elegant atmosphere.
We attempt to source as much local product as possible, developing relationships with local farms for produce, eggs and meats, creameries for cheese, lobstermen and oyster farmers for our shellfish, other local businesses for seafood, cured meats, product for our bar…plus more. Our goal is to move as close to from farm to table and then to fork as possible.
In addition, Chef Ross Moskwa is a master at providing Gluten Free foods, plus accommodating other food allergies and preferences. He knows the struggle personally so understands the importance of avoiding cross contamination and how to offer delicious foods that meet our guests needs.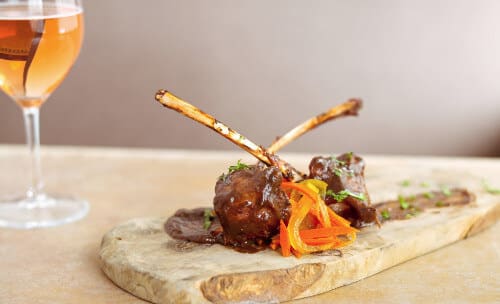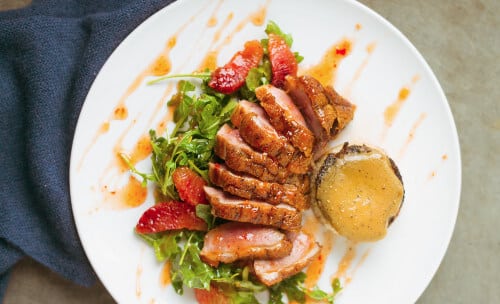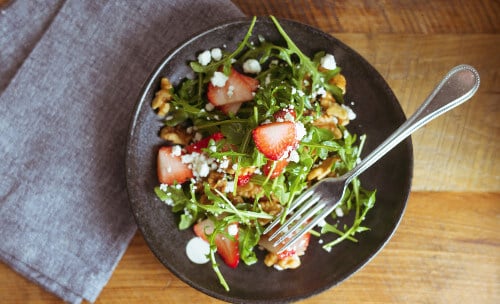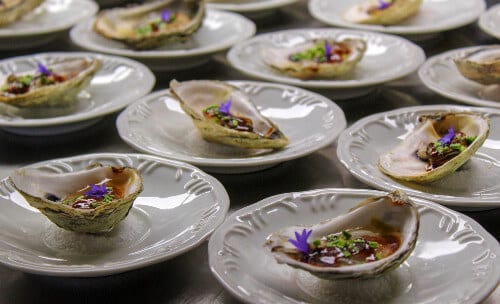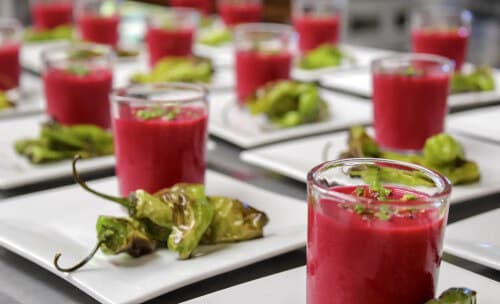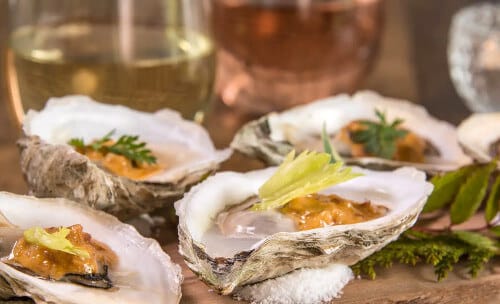 We also host group events, such as holiday parties, birthday celebrations, bridal and baby showers or other special occasions as well as business meetings. Please call 207-677-2105 or email us at info@bradleyinn.com to inquire for availability and for group event parameters provided by the Governor's office.
The dining room exudes casual elegance with its wooden tables, blue glassware, and soft nautical lighting, looking out towards the back gardens.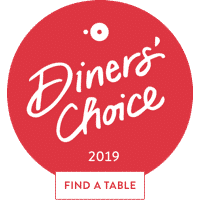 The tavern is warm and inviting, with its ship lap walls, wooden ship models, and muted lighting. Designed in a nautical theme and with a warm ambiance, the tavern has become a favorite gathering spot for overnight guests, restaurant guests, and Pemaquid Point locals.
Whichever room you dine in you can expect the same gourmet food from the kitchen. Join us for dinner to experience casual fine dining that will include a gourmet meal, artistic presentation, great wine, crafted cocktails and excellent service.