Ross and I hosted one cooking class at the inn in 2017, our first season here. We had two attendees, a mother and daughter who have become friends. We had a blast, first we went to High Hopes Farm down the road for a tour and to pick a huge red cabbage which we cooked for dinner. Then came back for lunch and the cooking class. We focused on making pasta which was fun. Later we invited Meaghan and Ross Nichols from High Hopes Farm to join us for dinner. We feasted on everything we made plus more, all paired with wines that Donna, our Mariner Rep, helped us to pick out. While we had a great time, it was really a learning experience for us. It was good that we had only two attendees.
Since then we have had numerous inn and dinner guests that have asked about cooking classes, which has gotten me thinking seriously about hosting one again. Our kitchen, while big and set up well for commercial cooking, is not the best teaching kitchen. We will need to be creative so multiple groups will have stations at which to learn/work.
As I have mentioned before, I cook most breakfasts at the Inn. And as those of you that have been an inn guest know I think a bit out of the box, many times using ingredients that do not come to mind for breakfast. I have had many compliments on the dishes that I serve, so that got me thinking why not host a breakfast cooking class. One that showcases some of the dishes that have received rave reviews. Honestly, they are not difficult to make which gave me the idea to focus on breakfast meals that are easily translated for home cooking. Nothing so elaborate that you make it once in the class and then never again.
The class will most likely be held in October, on a weekend, which would mean we would close the restaurant the night of the class so that attendees could all sit together and have breakfast for dinner. I would love to hear from you if this is something that you would be interested in, please reply below, thanks!
A fresh herved french omelet stuffed with goat cheese, asparagus and ham cubes which can be made as a roulade in the oven.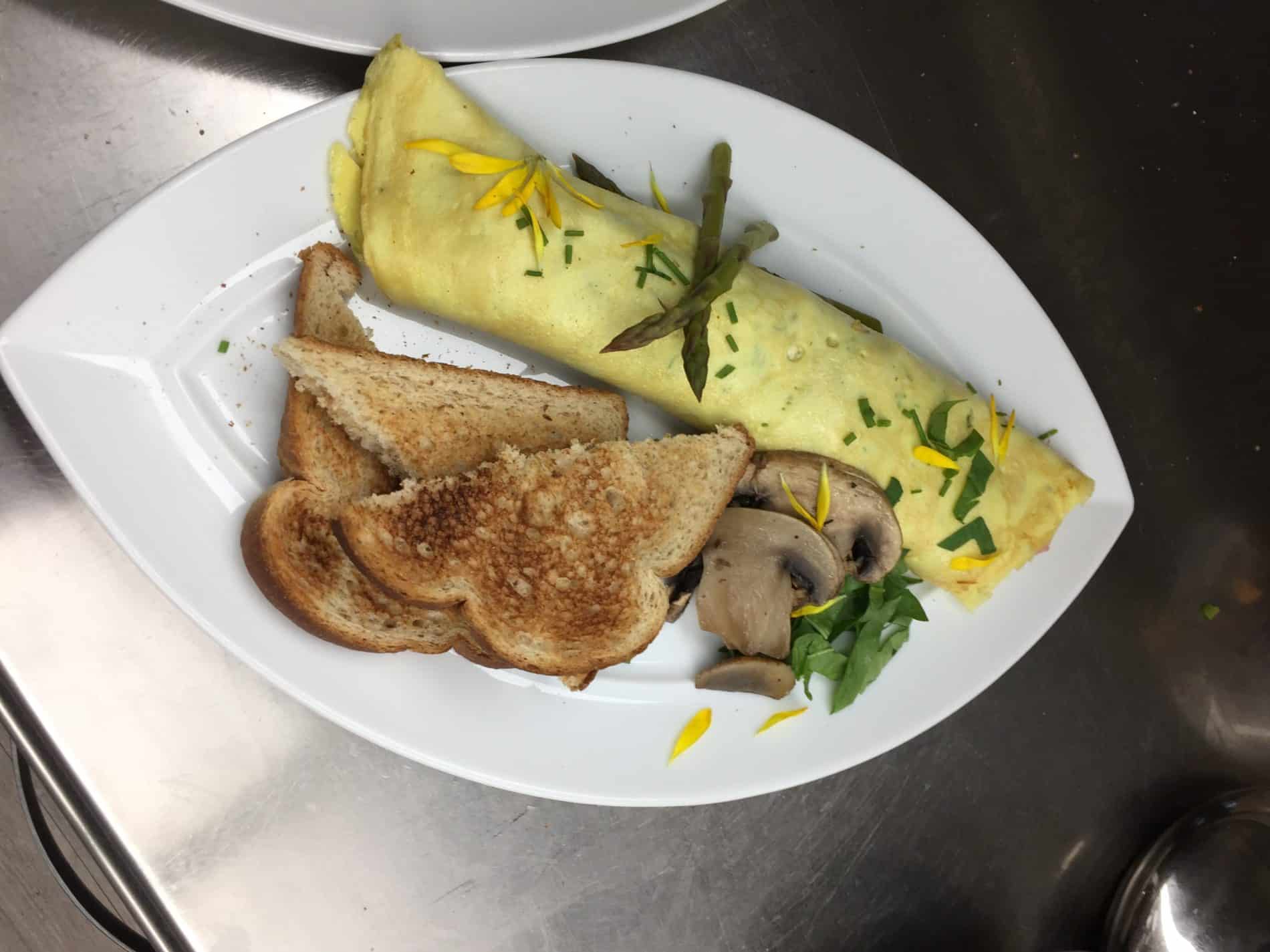 Toasted english muffin, with house made truffle aioli, fresh spinach, ham slice, sunny side up egg topped with sauteed mushrooms and onions. Serviced with a side of roasted grapes.