Thanksgiving has come and gone…and has kicked off the end of the year Holiday Season, Ch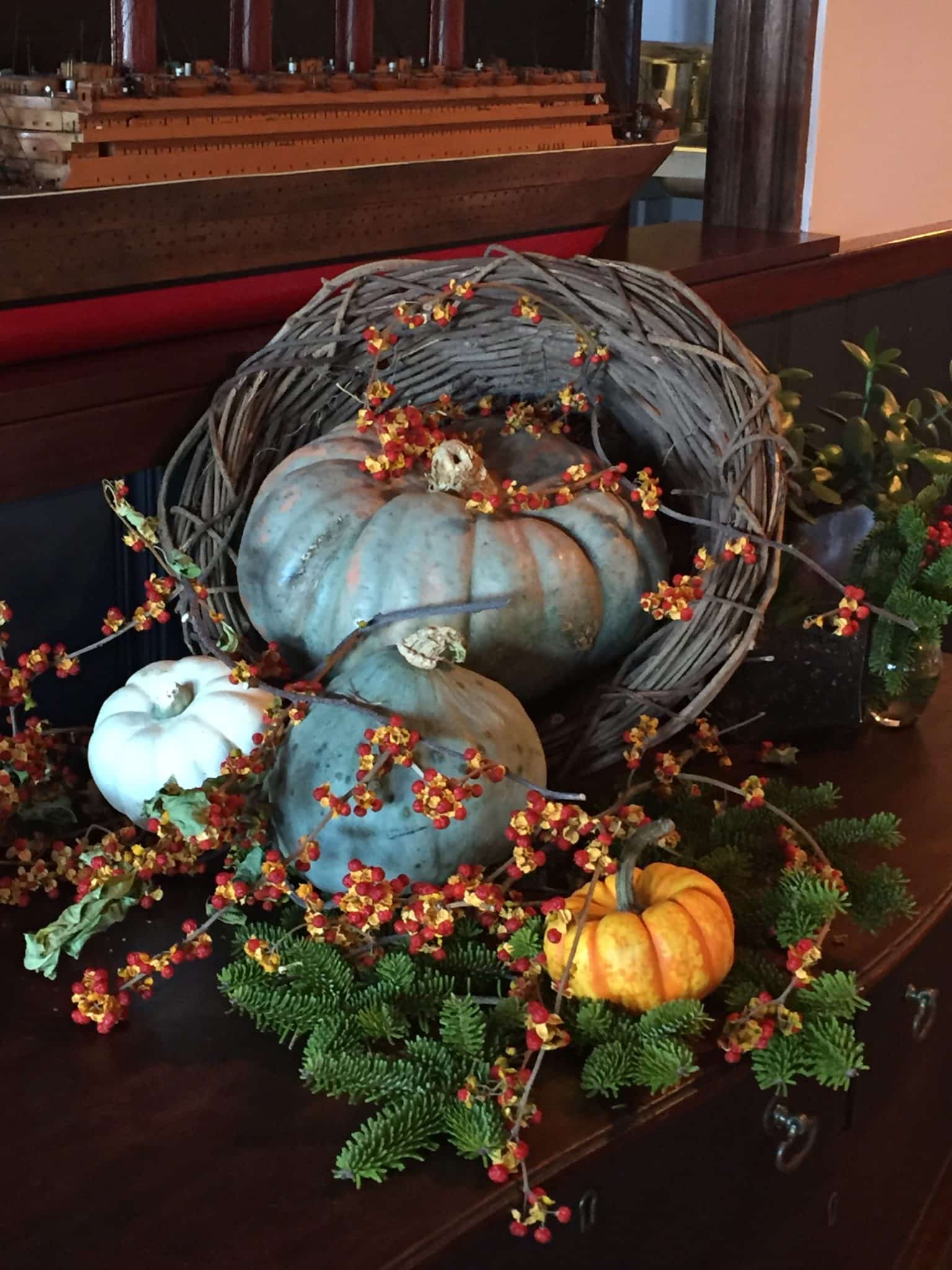 ristmas, Hanukah, Kwanza and let us not forget New Years! It becomes an ongoing celebration and why not? We all spend the year working, looking forward to this festive time, with its beautiful decorations and in the northern areas…snow. Everything is sprinkled with magic.
We had cut a few pine trees down on the property to decorate, no worries they needed to be taken down for various reasons anyway so why not create some beauty at the end of the year. Two were placed inside the inn, one in the front entrance and the other outside the tavern. Check out the pictures below. The third one was placed near the front door as the space was bare and needed some help, it was decorated with lights and a sled containing buoys. Now, however that the inn is closed, we have taken that outside tree and moved it to back, where we can see it at night from our window. OMG, it is so beautiful with the snow on it and the white twinkling lights, I just stare at it. It's been burned into my memory forever…no kidding, it really is like one of those magical Christmas movie trees in the woods, with the birds flying around and the cute little animals.
We decorated the inside trees with ornaments we collected over the years, brought with us from California. Since the last California Christmas was in 2015, we had not seen some of our decorations for four years, oh what fun it was to bring them all out again! Our trees were always done in white, silver and clear to emulate snow and ice, with white lights the tree always looked super magical.
In addition, we were lucky enough to have hosted a Wedding Celebration at the Inn over the Thanksgiving weekend, which just added to the festivities. The couple were of Scottish decent, with the bride in a white dress and tartan sash and the groom in a kilt. They even held the ceremony out at the Pemaquid Lighthouse, hardy souls! The colors, bagpipe music and theme were perfect with the greenery and atmosphere at the Inn.
Winter weddings and other special parties or group events are perfect all around, for us and you! We love working on these "smaller" special events, let us help make yours memorable and easy to put together. We will open the restaurant and even the guest rooms, off season, for an event or group that is large enough for us to do so. Give us a call 207-677-2105 or contact us via email at info@bradleyinn.com to discuss your off season wedding, party or group event.
Happy Holidays from Laura, Tony, Ross and Clarissa!